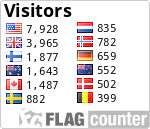 Some useful Links
There is a great list of useful links on the
geocaching puzzle help facebook page
. The link for useful sites is
here
.
(I used to replicate all the useful sites links here, but the maintenance was a pain, so please follow the link above as it will take you to the latest version of the list - do not worry, nothing has disappeared!)
Some unusual routes into geocaching.com:
Geocaching Shortcuts and Hints
- Website Functions, Parameters, Shortcuts and Hints for Geocaching.com
Through the Backdoors of Geocaching.com
- a cache which challenges you to find some undocumented things on geocaching.com - not sure if the "holes" they exploit are still there?
Geocaching Quick Links
- as it says, lots of quick links to things on geocaching.com, plus several other useful functions