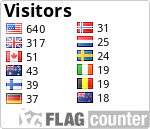 A guide to solving (simple) puzzles
This series is designed to accompany this website and take you through each type of puzzle.
Click here for the cache page
. This is a cooperative cache, with a difficulty of 2.5.
This first stage was a co-operative puzzle, and has been solved now. Cachers submitted a guess by writing a note-type log and I let them know whether it was right or not on this cache page. They were trying to guess the coordinates of a famous location in the UK. For each guess I awarded points. Each guess of the Right digit in the Right place was given "RR". Each guess of the Right digit, but in the Wrong spot was given "RW". N5 and W00 was given. The other 12 digits had to be guessed.
The correct final location was N55 36.549 W001 42.638, and I tell you it is a famous castle. It also happens to be the castle in the background photo, which I took when we visited. You can try looking at the background image and searching for it in Tineye or Google Images, but as I toook it you are unlikely to find a match.
The instructions now say:
Read up about the place you have just found and there should be an obvious connection with me. Use his name (christian names and surname with no blanks) as the password (lowercase) on the file at the link below.
Click here for password page
Hint - none for the puzzle
Solution
Looking at the location in Google Maps you will see that it is Bamburgh Castle (and if you look closely there is an Armstrong house nearby, which starts to give you a hint (my name is Armstrong). Read up about the
castle's history
, and you will rapidly find that the castle belongs to the Armstrong family and it once belonged to
Lord Armstrong
. whose full name was William George Armstrong. Click on the password link page above and you will see lots more pictures and a file download button. Download the file and click on it - it will ask for a password, which is my relative's full name with no blanks in lower case. The file will now open and give you:
Congratulations!
The cache can be found at
N 51° 14.854 W 000° 18.633
Enjoy the view
PS - don't forget the Armstrong bit - it runs as a theme through several of this series of caches.