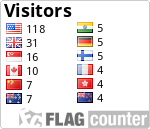 I love/hate puzzles - 2
Click here for cache page
. A more complex list puzzle where you have to generate the list, with difficulty = 3.5. The part we need is:
From the following list of letters make 2 3-letter words, 2 4-letter words etc up to 2 7-letter words.
--Y
--Y
-Y--
-Y--
-Y---
--Y--
--Y---
-Y-Y-Y (my favourite and the inspiration for this puzzle!)
--Y-Y--
--Y----
CC,D,F,GG,HHHH,LLLL,MMM,NNN,PP,RRRR,SSSSS,TTTT,X,Z
Assume 10=0, and go alphabetically when needed in each pair.
The cache is at N51 1C.RHT W00 1((S/2)-D).(G-F)LN
Solution
If you solved "
I love/hate puzzles - 1
" and entered the answer in geocheck, you will have received the following information:
All the words have only y as the vowel. Lots of sites list such words. The puzzle can then be solved with the starting letters giving you the numbers, They include dry,tryst and glycyls.
Filling that in above gives TRYST as number 6, GLYCYLS as number 9, and DRY as 1 or 2. Now Google for words with no vowels and you will get
this for example
. That quickly gives you SYZYGY as number 8 (a great word) and RHYTHMS as number 10.
The dummy coordinates are
N 51° 17.305 W 000° 13.605
, so you can guess that the solution is likely to be N51 16/17 or 18. In the formula above that means that C is 6,7 or 8, but we already have 6 and 8 so C is 7 and the only word that works is CRYTPS.
That leaves numbers 1 to 5 and the letters D,F,H,H,L,L,M,M,N,N,N,P and X. We have DRY as 1 or 2 and by elimination LYNX as 3 or 4 so that leaves the letters F,H,H,L,M,M,N,N,P. Look at the formula for the coords above and you can see that you need words beginning with F, H and N, so a little bit of playing around should then give you FLY, HYMN and NYMPH from these letters. I tell you to go alphabetically in each pair if needed so we end up with:
1 DRY 2 FLY 3 HYMN 4 LYNX 5 NYMPH 6 TRYST 7 CRYPTS 8 SYZYGY 9 GLYCYLS 10 RHYTHMS
Using the first letter of each of these in N51 1C.RHT W00 1((S/2)-D).(G-F)LN gives
N51 17.036 W000 13.745
Put that into the geocheck and you will get a hint for the next puzzle in the series, and the next clue for the final logic puzzle.