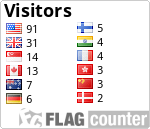 I love/hate puzzles - 4
Click here for cache page
. A cipher puzzle with difficulty = 4. The part we need is:
During the war my Mum was evacuated to Wales. The bar of the local pub had a regular visitor, who was a poet and a drinker. He wrote about a fictitious village, whose name got changed by the censors, because its derivation was vulgar.
To find the cache you need to decode this using the appropriate keyword:
SLNEIXIUOELCLRATUSMJMKLKMXBFRAEXJKOHLTNRGATXJXOIDXXOUSOOEXXXOWILYTUIAJXFRLPYIJCUSFRAZR
Puzzle hint: Traditional numbering, I used Wikipedia.
Solution
A Google of "poet Wales fictitious village" leads you rapidly to
here
,
where you can see that the village was called Llareggub.
Also, If you solved "
I love/hate puzzles - 3
" and entered the answer in geocheck, you will have received the following information:
The poet is Dylan Thomas, and he wrote about a village in Wales. The censors changed his original name to Llaregyb, because the original name was a rude English phrase spelt backwards. Use that original name to decipher the code. The decipher will give you the numerals in Welsh. I have used the traditional Welsh Vigesimal system.
So enter the cipher text in a Vigenere decoder like
this one
and you get the following decode, which is in Welsh:
HANNERCANTACUNUNARBYMTHEGDAUGANTDEUGAINACUNDIMDIMTRIARDDEGTRICHANTDEUDDEGAPHEDWARUGAIN
which splits down this way:
HANNER CANT AC UN UN AR BYMTHEG DAU GANT DEUGAIN AC UN DIM DIM TRI AR DDEG TRI CHANT DEUDDEG A PHEDWAR UGAIN
Using the
traditional Welsh counting system
, this gives
51 16 241 00 13 392 - hence
N51 16.241 W000 13.392
Put that into the geocheck and you will get the final clue for the logic puzzle.