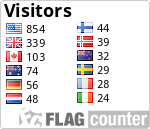 Some facts about geocaching.com
I've come across some caches that need you to find out some info about geocaching.com.
The first thing you can determine is the IP address. To find this on a Windows PC (sorry, don't have a Mac, but
here is an equivalent
) click on the start globe and type cmd into the search box. It will find a program called cmd.exe. Click on this and a new window appears. At the blinking cursor, type in
ping www.geocaching.com
and you will get back an answer, part of which has 66.150.167.189 in it - that is the IP address. Here is the IP address in some other formats:
IP Decimal:
1117169597
IP Hexadecimal:
42.96.A7.BD
IP Octal:
0102.0226.0247.0275
IP Binary:
01000010100101101010011110111101
You can find out a bit more about them by using
e.g. whois.net
, which tells you some facts including:
Registrant: Groundspeak, PMB 321, 24 Roy St, Seattle, WA 98109 4018 US
Domain name: GEOCACHING.COM
Using
websiteipaddress I also found the following, which includes a map showing where they are and their GPS location.
You can also find some information about groundspeak and the history of geocaching
here
.