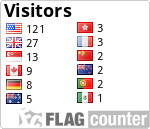 I love/hate puzzles - 3
Click here for cache page
. A text puzzle / cache page puzzle with difficulty = 4. The part we need is:
Archfiends use a methodical background for exhumation of cordinates(sic).
Cache is at N51 1P.TCE W 00 1C.YCT
Puzzle hint: Eyes right
Solution
This is a tricky puzzle without the clue from number 2. The clue is in the words, which are all 10 letters long - and you are obviously always looking for the numbers 0-9 or 1-10 for the coordinates. Also I have spelt cordinates wrong intentionally to give another example of a ten-letter word. Googling "archfiends methodical background exhumation" leads you to
here
, where you discover that the words have a unique property - namely no repeating letters. Ah ha, ten letters, no repeats - that means I can generate a code for the numbers 1 to 10 easily.
If you solved "
I love/hate puzzles - 2
" and entered the answer in geocheck, you will have received the following information:
Some people have difficulty remembering their PIN number, but writing it down is dangerous. So one method is to choose a word with 10 different letters (e.g. the words on the cache page - archfiends, methodical, background, exhumation, cordinates because I purposely spelt it wrong) - see
http://www.morewords.com/unique-letters/ for examples
. A common one that people use is CORNFLAKES. Now if you want to write down a PIN number of 2468, you actually write down ONLK. Without the keyword, this is then meaningless to anyone who looks at what you have written. I have used a 10-letter word that is also on the cache page.
The clue tells you Eyes right and the letters in the formula say that you are looking for a word with P,T,C,E and Y in it. Look to the right of the hint and the 10-letter word there is DECRYPTION.
Use that in the formula above, with D=1, E=2 etc. to give you
N 51 16.732 W000 13.537
Put that into the geocheck and you will get a hint for the next puzzle in the series, and the next clue for the final logic puzzle.